Article extracted from Asian Diver Issue 02/2020 (155)
It's not just on a national level where change is being implemented. Several evolved and active brands have derived, produced or presented products to the world that take on an environmentally friendly angle by promoting sustainability. Let's celebrate the respective initiatives taken up by commercial brands, non-governmental organisations, non-profit organisations, and social and technical enterprises, as we attempt to capture some of the most unique and memorable ones.
RETAIL AND FASHION
IKEA
IKEA was one of the first brands to lead the phasing out of plastic bags. They introduced a policy in which customers have to purchase a blue IKEA bag for 59 cents or use their own. More than 90 percent of Ikea shoppers chose to use reusable bags instead of plastic ones. This policy is still in effect even today. IKEA plans to eliminate all single-use plastic products by 2020.
EVERLANE RENEW OUTERWEAR
The ReNew collection by Everlane features jackets and sweaters made with recycled plastic bottles. By March 2019, the sustainable brand began reducing single-use plastic in offices and stores by 50 percent having switched to alternatives in 2018. In April 2019, they spearheaded a collaboration with The New York Times to raise awareness of climate change.
REFORMATION
Leading fashion brand Reformation, features several environmentally friendly alternatives to used and abused fabrics. Popular with Hollywood's A-listers, Reformation also looks into a cleaner approach in changing plastic and nylon marine waste. ECONYL, their regenerated form of nylon targets to reduce waste by using no new resources in the production of fabric. They rescue waste from landfills and oceans, including such as fishing nets, carpet fluff, and fabric scraps, etc.
ETHIQUE BEAUTY
Ethique Beauty brand revolutionised the beauty industry by being the first proper zero-waste beauty brand. Founded by Brianne West, Ethique Beauty (French for "ethical"), is enthusiastically supported by celebrities like Ashton Kutcher and Britney Spears. Instead of using plastic bottles, Ethique's shampoos and conditioners take the form of bars, and naturally, they have compostable packaging.
ADIDAS X PARLEY OCEAN PLASTIC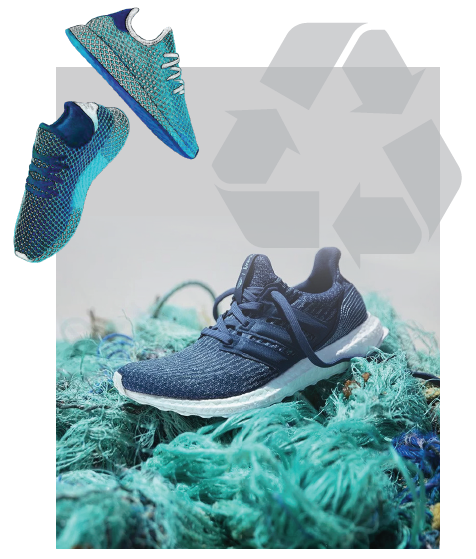 Adidas has been collaborating with the environmental organisation Parley for the Oceans in an effort to transform marine pollution into trendy sportswear. The result is the Adidas x Parley range, which uses upcycled marine plastic waste collected from beaches and coastlines that is subsequently reworked into polyester yarn. The company is setting its sights even higher, aiming to stop using virgin polyester entirely by 2024.
IN 2019, ADIDAS pledged to make 11 million shoes out of recycled ocean plastic. The partnership with Parley prevented 2,810 tonnes of plastic from reaching the ocean.
PHARRELL WILLIAMS X G-STAR RAW
Celebrated Grammy award-winning artist Pharrell Williams teamed up with G-Star RAW following the success of "RAW for the Oceans" to launch an ocean plastic fashion collection. The release included denim garments made from recycled plastic taken from the oceans. Fabrics were developed in partnership with the marine engineering textile company Bionic Yarn, and the ocean awareness organisation Parley for the Oceans. The collection featured clothes with broken down marine plastic woven with other materials to create new fabrics. Corporate responsibility director of G-Star, Frouke Bruinsma said: "With RAW for the Oceans, we were the first to make denim from recycled ocean plastic and we are now starting to completely replace the 10% conventional polyester in our collection with recycled plastic. We want to continue to create progress through sustainable innovation and join forces with the Plastic Soup Foundation to battle the microfibre problem. Only a strong alliance of dedicated stakeholders around the world can turn the tide. Everyone is welcome to join us."
PRADA
The veteran fashion brand launched its Re-Nylon project in mid-2019, introducing a sustainable line of bags made from the recycled nylon Econyl. Created by Italian company Aquafil, Econyl uses synthetic waste such as industrial plastic, waste fabric and discarded fishing nets. Prada's ultimate goal is to convert all its virgin nylon into Econyl by the end of 2021.
To finance its ambitious sustainability targets, Prada secured a 50 million euro five-year loan with Crédit Agricole Group, the first of its kind in the luxury fashion industry. This loan scheme allows the fashion house to alter its interest rates on an annual basis if it reaches its eco-friendly objectives.
UNIQLO
Beginning in September 2019, Uniqlo began reducing single-use plastic in stores and phasing out plastic shopping bags. The company has also implemented Forest Stewardship Council (FSC) certified paper or recycled paper into their system.
The company began eliminating plastic packaging for items such as room shoes while committing to finding more environmentally sound packaging materials for other goods. As well as beginning to sell eco-friendly cloth bags, Uniqlo began charging customers for paper shopping bags.
Liked this post? Stayed tuned for Entertainment Brands' initiatives on mitigating plastic use!